Visitor Information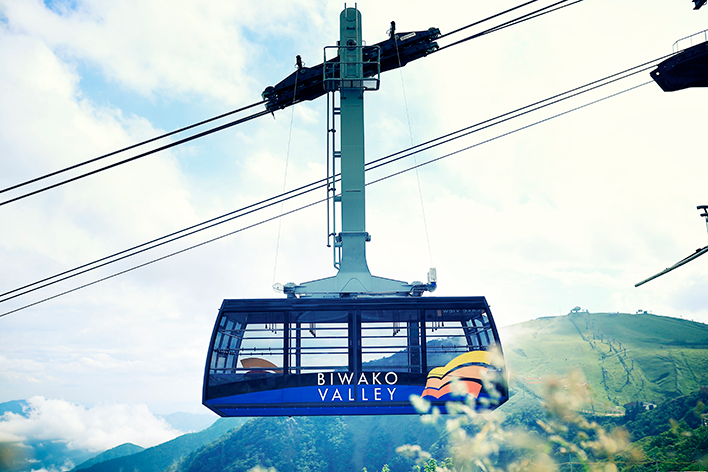 Biwako Valley occupies the expansive area between the 1,108-meter Mt. Uchimi from which you can enjoy a view of Lake Biwa, and the 1,174-meter Mt. Horai. The Biwako Terrace at the top of the two peaks is a key feature of this resort, which has been a popular holiday destination in the Kansai area for years.
The Main is a large area at the top of Mt. Uchimi. Café 360 is a quiet place at the top of Mt. Horai. Each uniquely designed terrace enables you to enjoy a majestic view of Japan's largest lake. These special spaces in an iconic nature resort ensure that you will enjoy memorable moments.
Take the ropeway to The Biwako Terrace on the summit. The 360-degree glass cabins provide amazing views.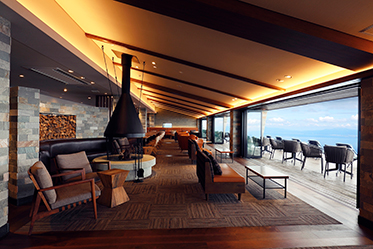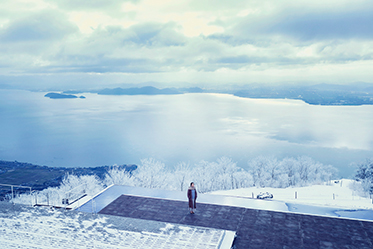 Information
Ropeway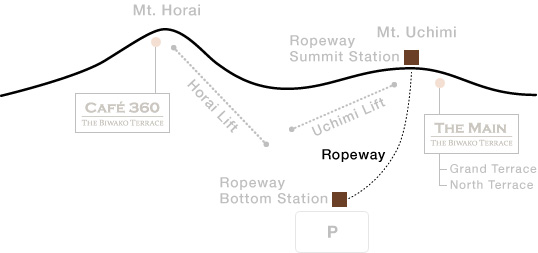 - Days of operation

Open all year round (except July 4-8 , September 5-9 and November 27 - End of December, 2022)

- Hours of operation

April-October 9:00~17:00
November 9:30~16:30

- Schedule

Cars come every 15 min.
*The gondola ride takes 5 min.
*Hours are subject to change depending on the season.

- Fees (Round trip)

April-October  Adults: ¥3,500 7-12 years old: ¥1,500 3-6 years old: ¥1,000 Pets: ¥500
November   Adults: ¥3,000 7-12 years old: ¥1,000 3-6 years old: ¥800 Pets: ¥500
Horai Lift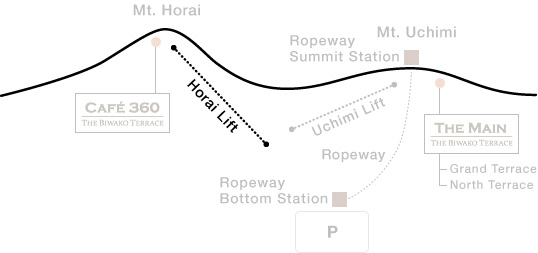 - Days of operation

April 23 - October 31, 2022

- Hours of operation

9:30~16:15
Uchimi Lift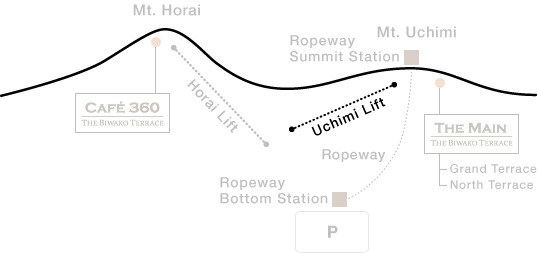 - Days of operation

April 23 - October 31, 2022

- Hours of operation

9:30~16:30
Parking Area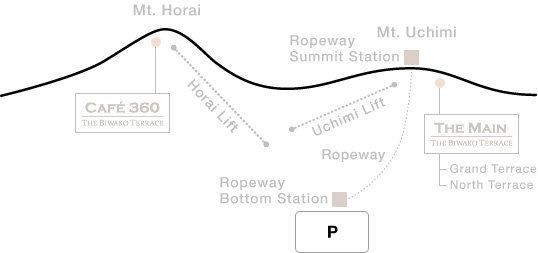 - Fees

Weekdays: 1,000 yen
Sat., Sun., holidays, & Long holidays: 2,000 yen
*Visitors using the P9 parking area or below, please board our shuttle bus for access.
Barrier-free Access
These facilities are not completely barrier free. In the parking area, if you speak to an attendant, you can be guided to a parking space close to the station. For the ropeway gondola boarding area, there are inclined paths that will help you access your ride to the summit. As for restroom facilities, there are large, private stalls, though somewhat limited in number.
Visitors with Pets
Many areas, such as the shuttle bus from the parking lot, the ropeway gondolas, and the Biwako Terrace, ask that you have your pet in a carrier. We apologize for the inconvenience, but please bring a carrier that completely conceals your pet. Please use the #1 Ropeway (Red color), when you are with your pet.
Please take note of the temperature difference
Biwako Terrace is at an elevation above 1,100 meters. The temperature drops 5-7℃ compared to the foot of the mountain and the summit is very refreshing in the summer. On windy days, the conditions can be brisk, so we recommend a jacket or other appropriate clothing.