Information
本日の営業状況
1月22日(土)営業のご案内
天気もよく、昨日の降雪で琵琶湖と銀世界の景色をお楽しみいただけます。
営業時間 8:30~16:30
 ・ロープウェイ(上り便)8:30~16:00
 ・ロープウェイ(下り最終便)17:00
 ・駐車場 (開場)7:30~
-----------------------------------
【ゲレンデ・コース】積雪150cm
(〇)打見ゲレンデ
(〇)ジャイアントコース
(〇)フォレストコース
(〇)ロマンスコース
(〇)アルペンコース
(〇)ホーライパノラマゲレンデ
(〇)ホーライ北ゲレンデ
(〇)チャンピオンコース
(〇)ダイナミックコース
(〇)スノーパーク
(〇)モーグルコース
▶詳しいコース状況のご案内はこちら
【アクティビティ】
(〇)スノージップライン
(〇)スノーチュービング
(〇)スノーランド(そり、遊具)
(〇)スノーシュー体験
【スクール】
(〇)スキッズ・キャンプ
(〇)スキースクール
(〇)ボードスクール
【びわ湖テラスTheMain】
(〇)Grand Terrace(展望エリア)
(〇)テラスカフェ
【レストラン】
(〇)ダイニング「レイクビュー」
(〇)エキナカキッチン
(〇)バードキャッスル
【ショップ】
(〇)びわ湖ストリート
(〇)は営業中または、営業予定
(△)は営業見合わせ
(×)はクローズ、または中止
▶現在の営業施設はこちら
【新型コロナウイルス感染症対策】
お客様の安全を第一に皆様が安心してご利用いただけますよう、新型コロナウィルスの感染拡大予防の対策を講じて営業いたします。なお、ご来場の際にはマスクの着用をお願いしております。ご不便をおかけいたしますが、ご理解とご協力のほどお願い申しあげます。
▶感染予防対策のご案内
"
2022年01月22日 14:00 更新
今日の天気
天気

ライブカメラ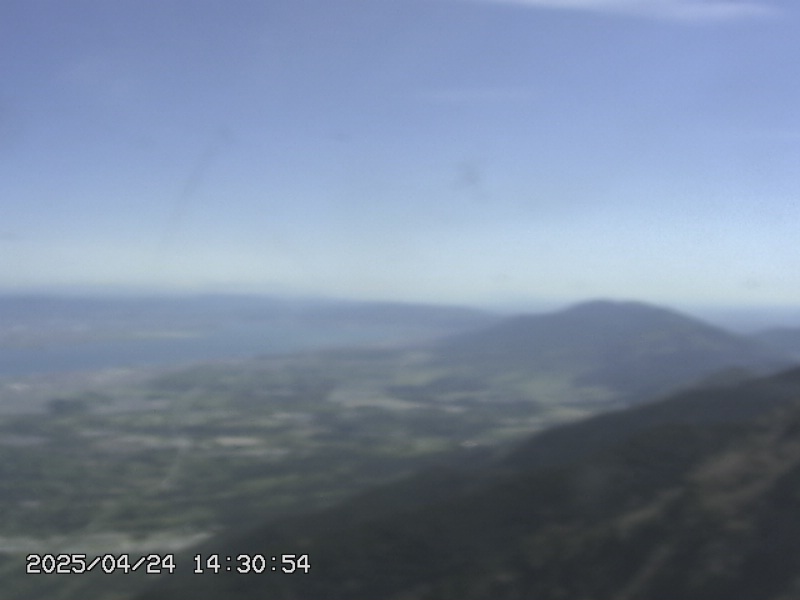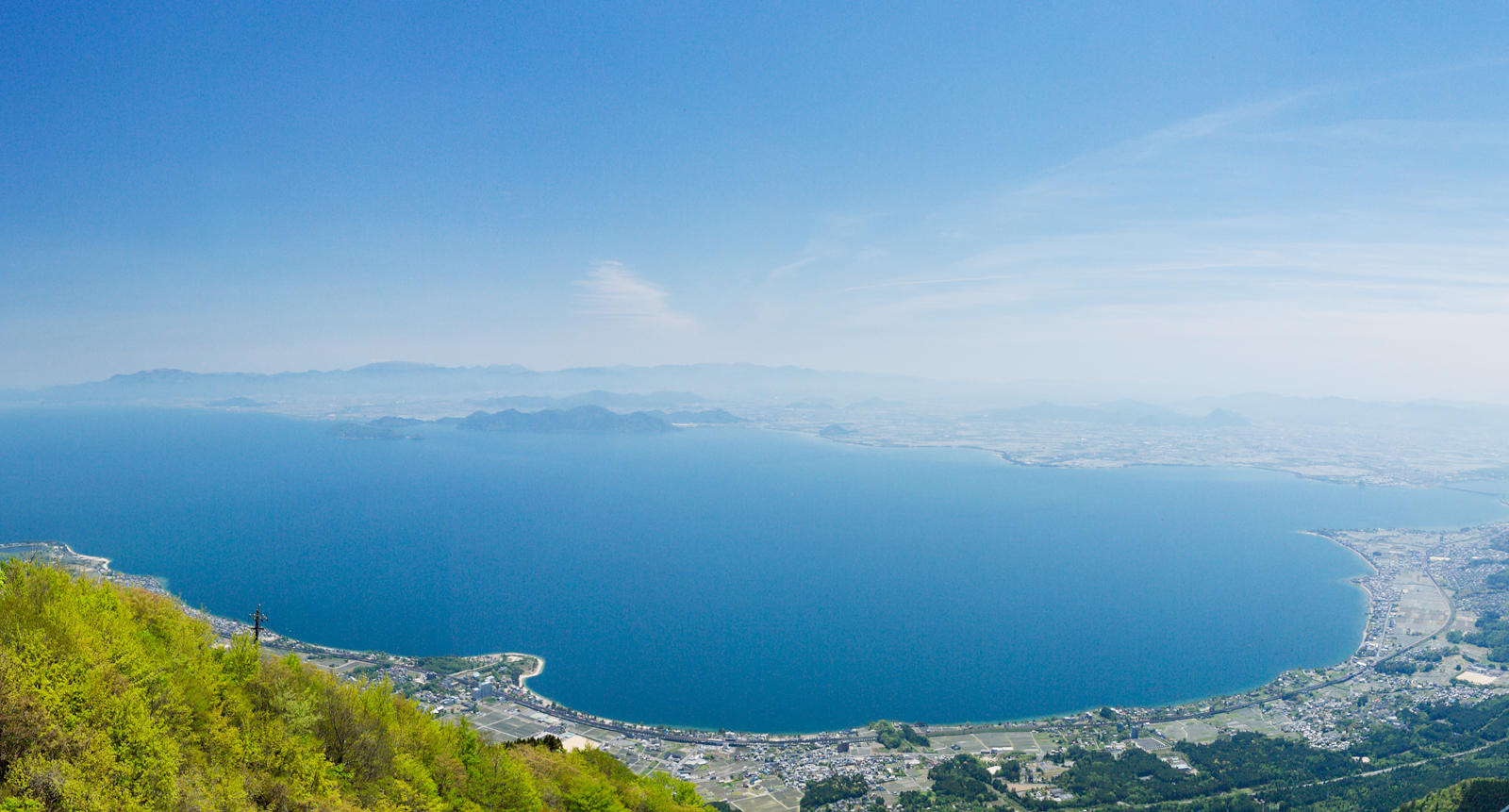 About Biwako Terrace
Biwako Terrace offers a sophisticated resort for adults and delivers soaring views looking out over the lake.
There are two terraces, each with their own character, atop two mountains.
Enjoy a luxurious and relaxing time in a very special setting.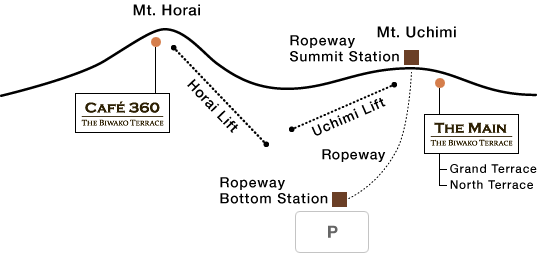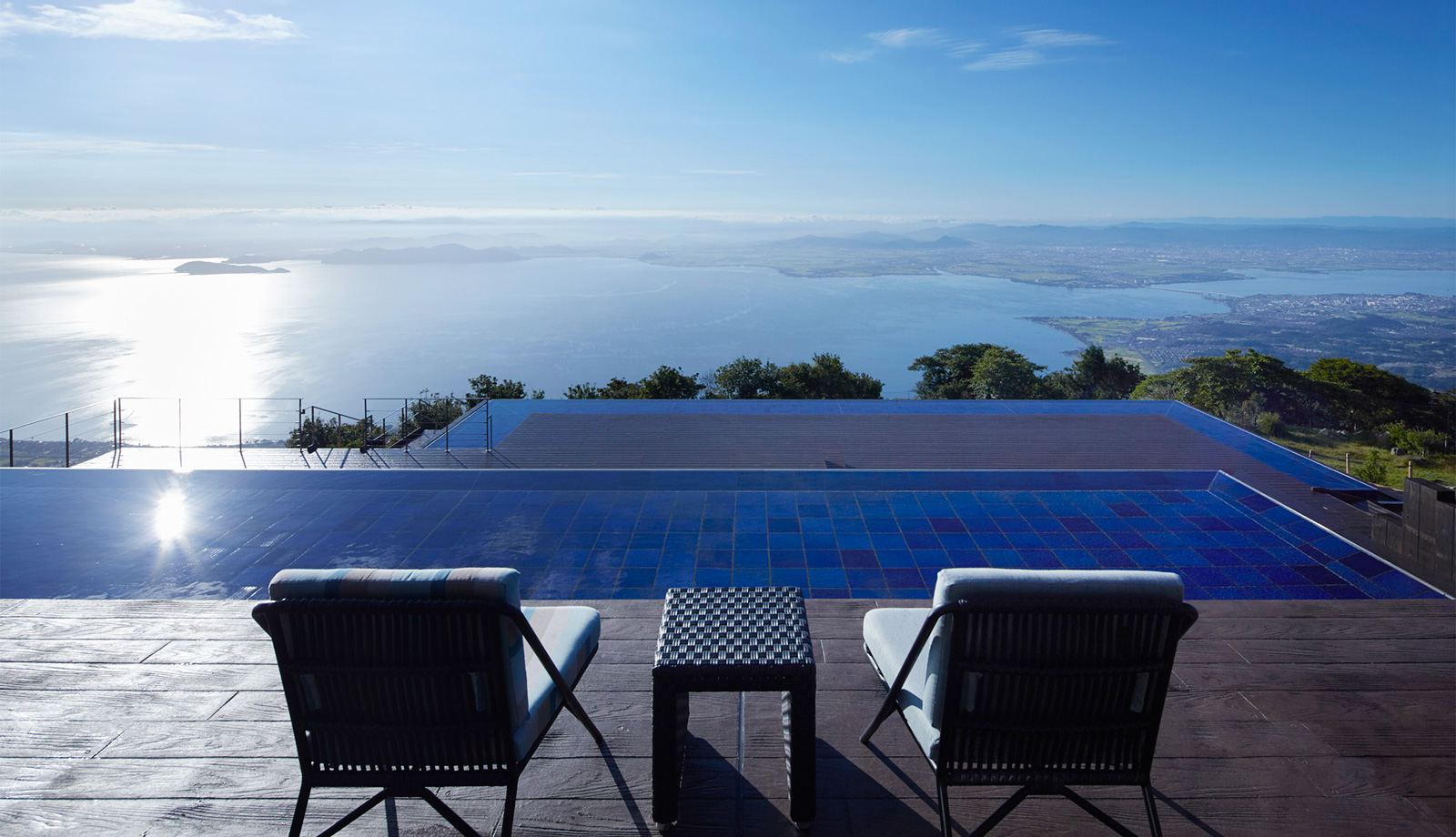 The Main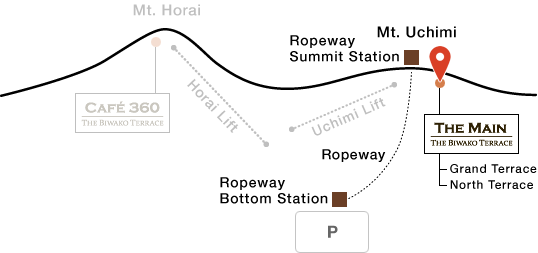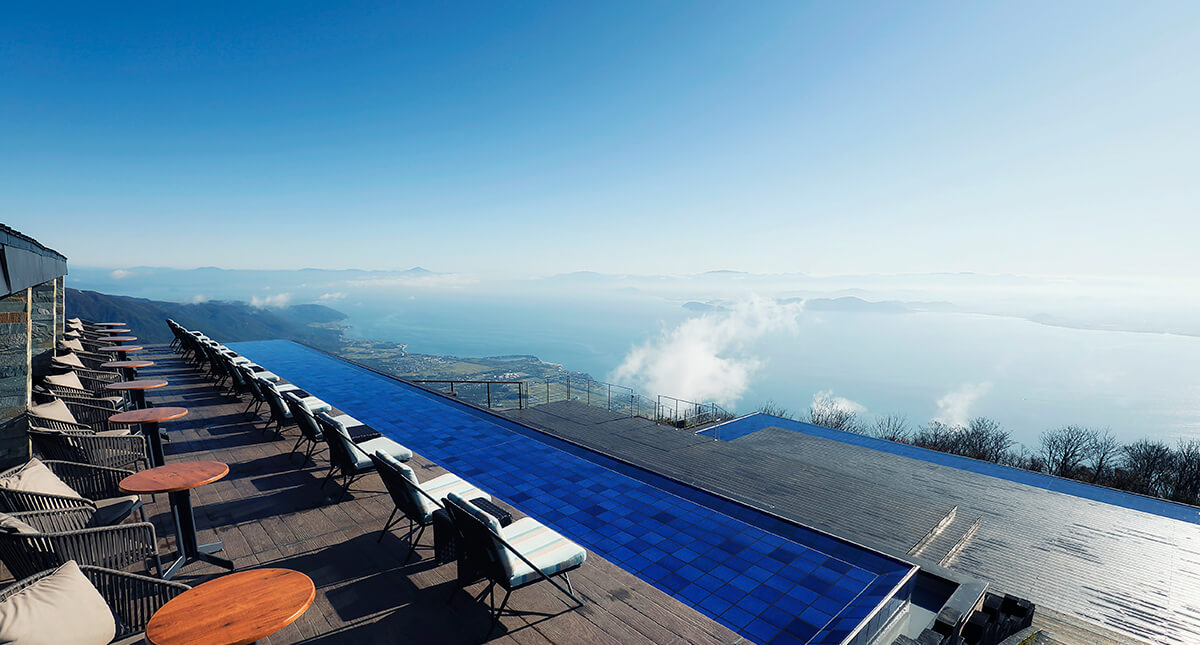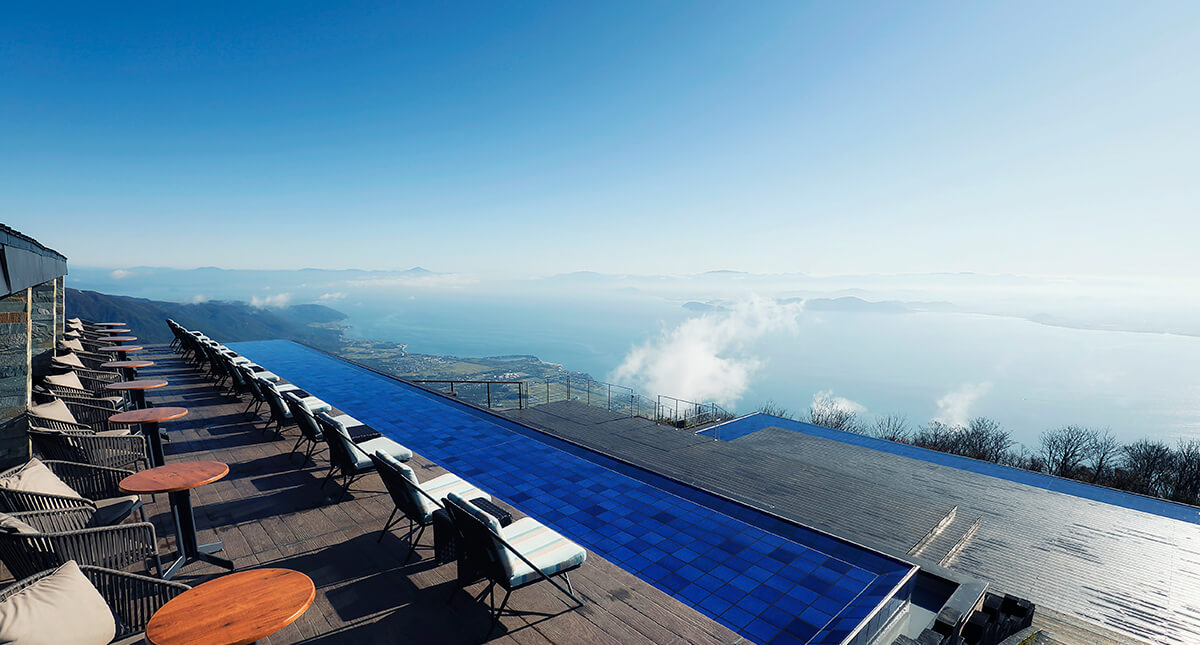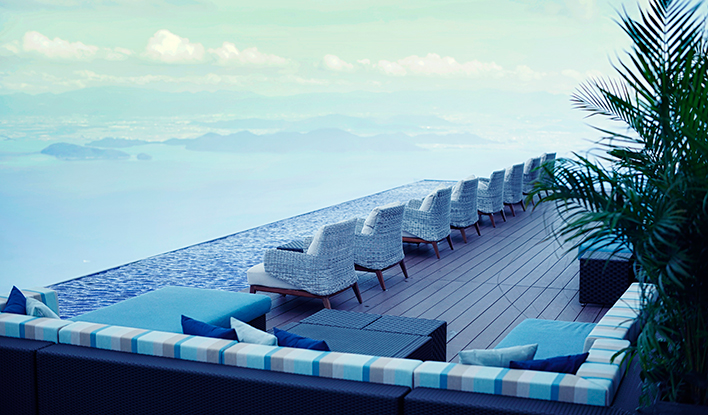 5 min ropeway gondola ride takes you to the Summit Station of Mt. Uchimi (at 1,108m above sea level). Upon alighting from the gondola, you will be greeted by the spacious terrace area "The Main".
"The Main" houses two amazing retreat terraces. The iconic "Grand Terrace" and the best spot to see northern Lake Biwa at "North Terrace". Our deck terrace with its surrounded water features is definitely the perfect place to relax. Lay back on chairs or stroll along the deck, enjoying Lake Biwa's captivating blue sky and charming scenery. It's truly a Sky Resort paradise. Do enjoy our café specialties such as sandwiches and gelatos from "Terrace Café".
For more private indulgence, you may wish to secure a lounge sofa seat with our "Infinity Lounge" (fees applicable/walk-in booking only/ first come first served basis).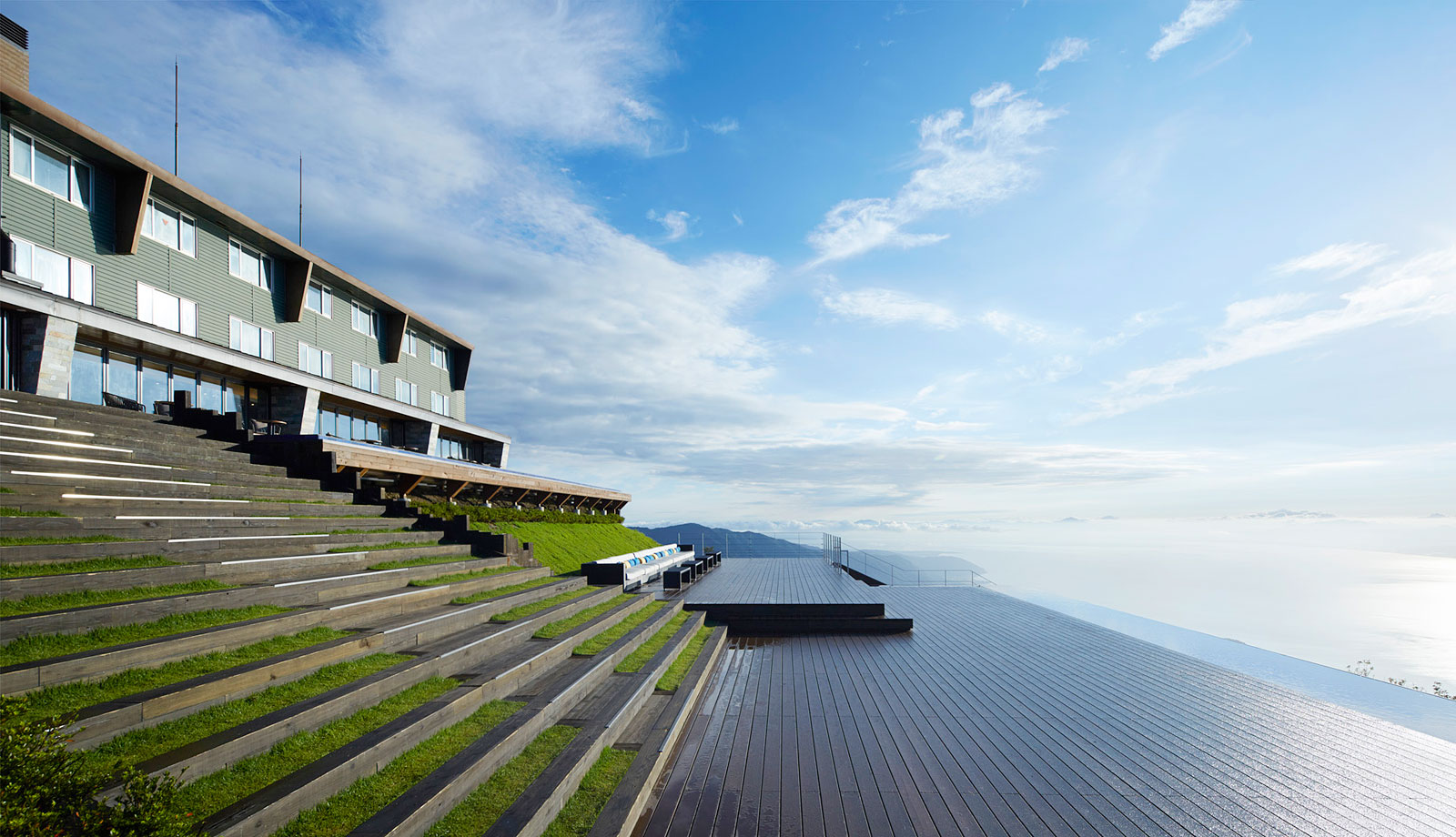 Café 360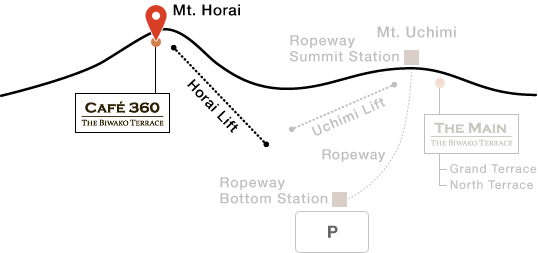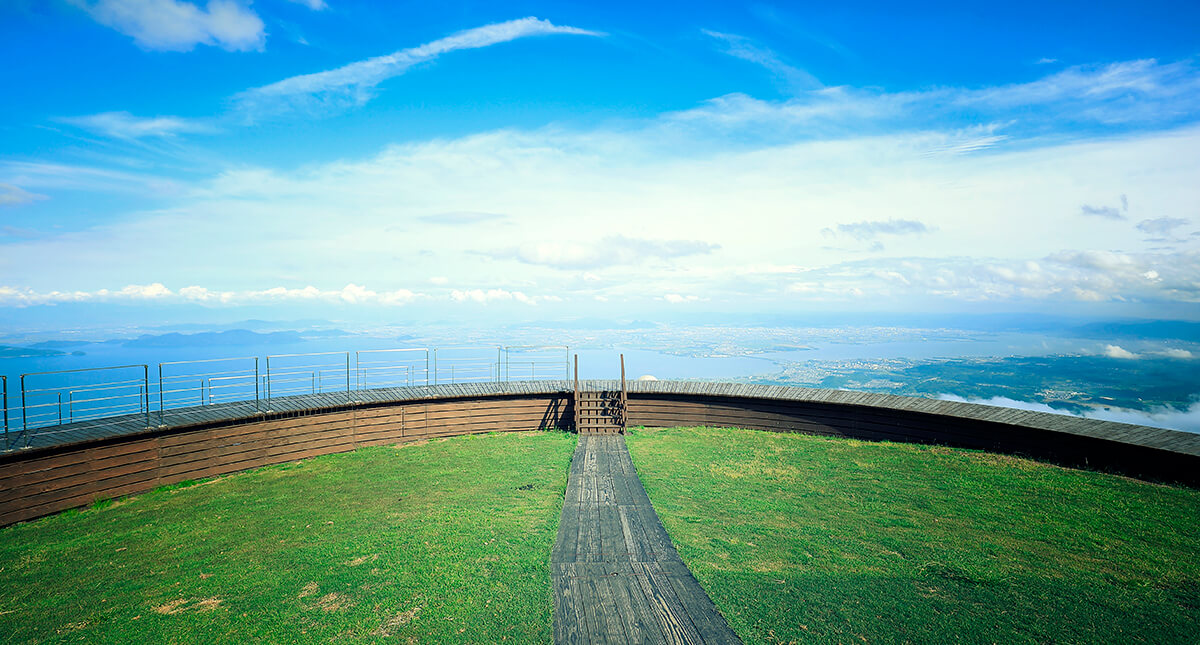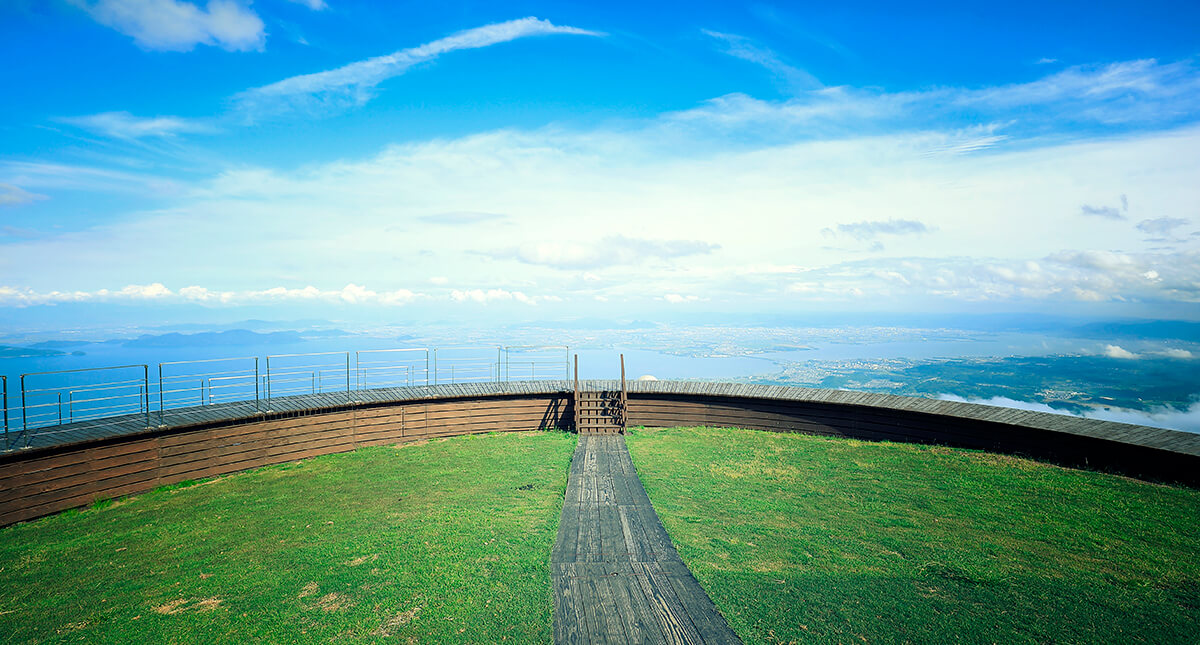 Mt. Horai (1,174 m) is the tallest mountain in Biwako Valley and offers an exceptional vantage point.
Café 360 is a terrace perched at the summit. It is like a different world ensconced in clouds.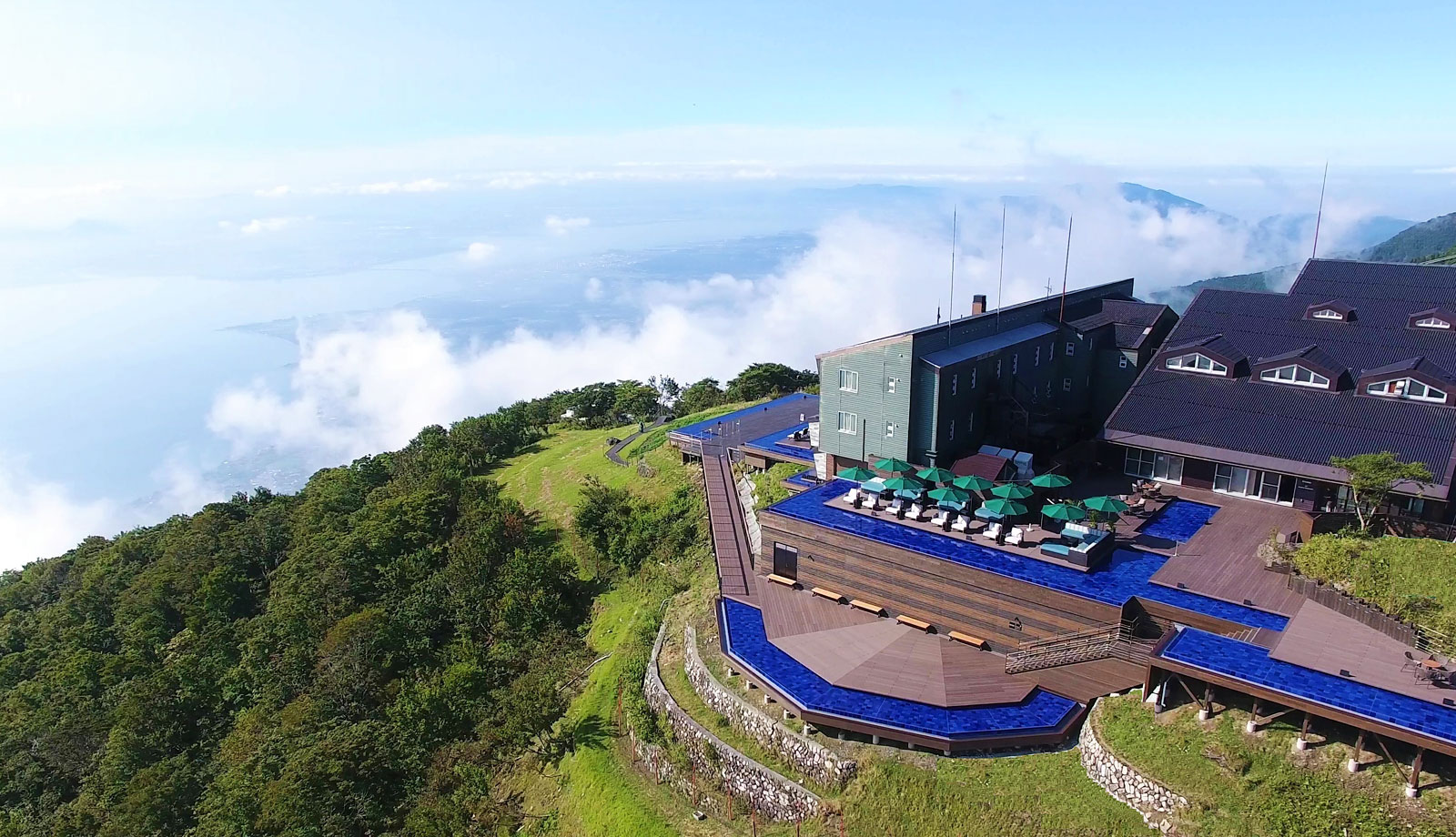 Food & Drink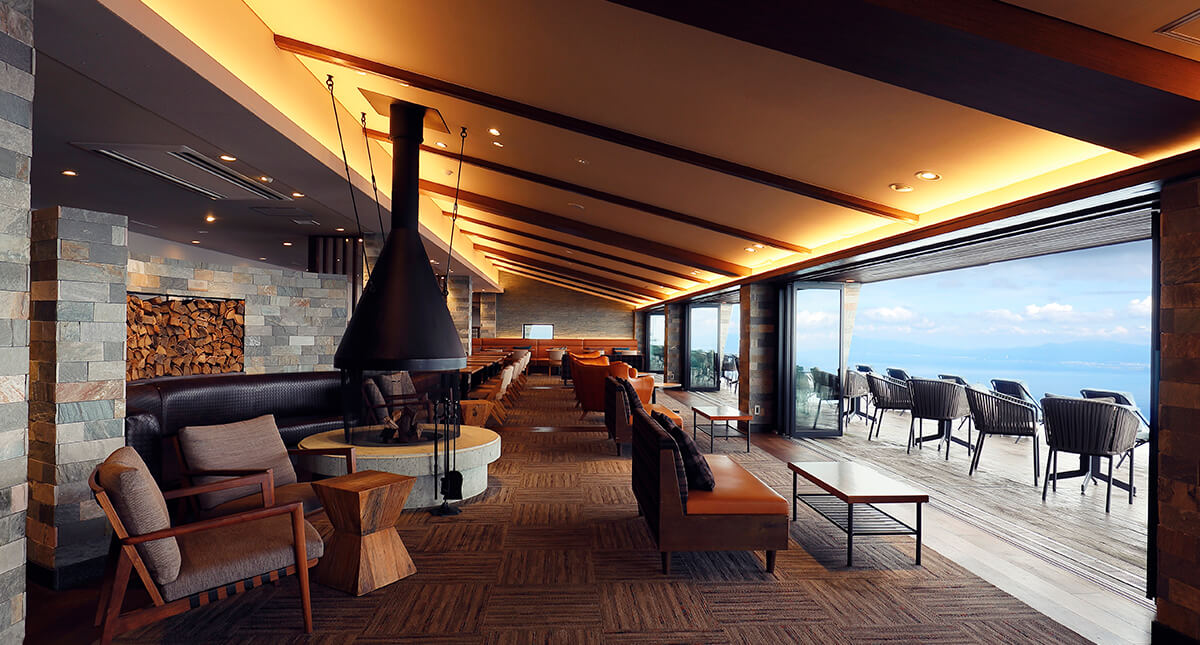 The Main
Café 360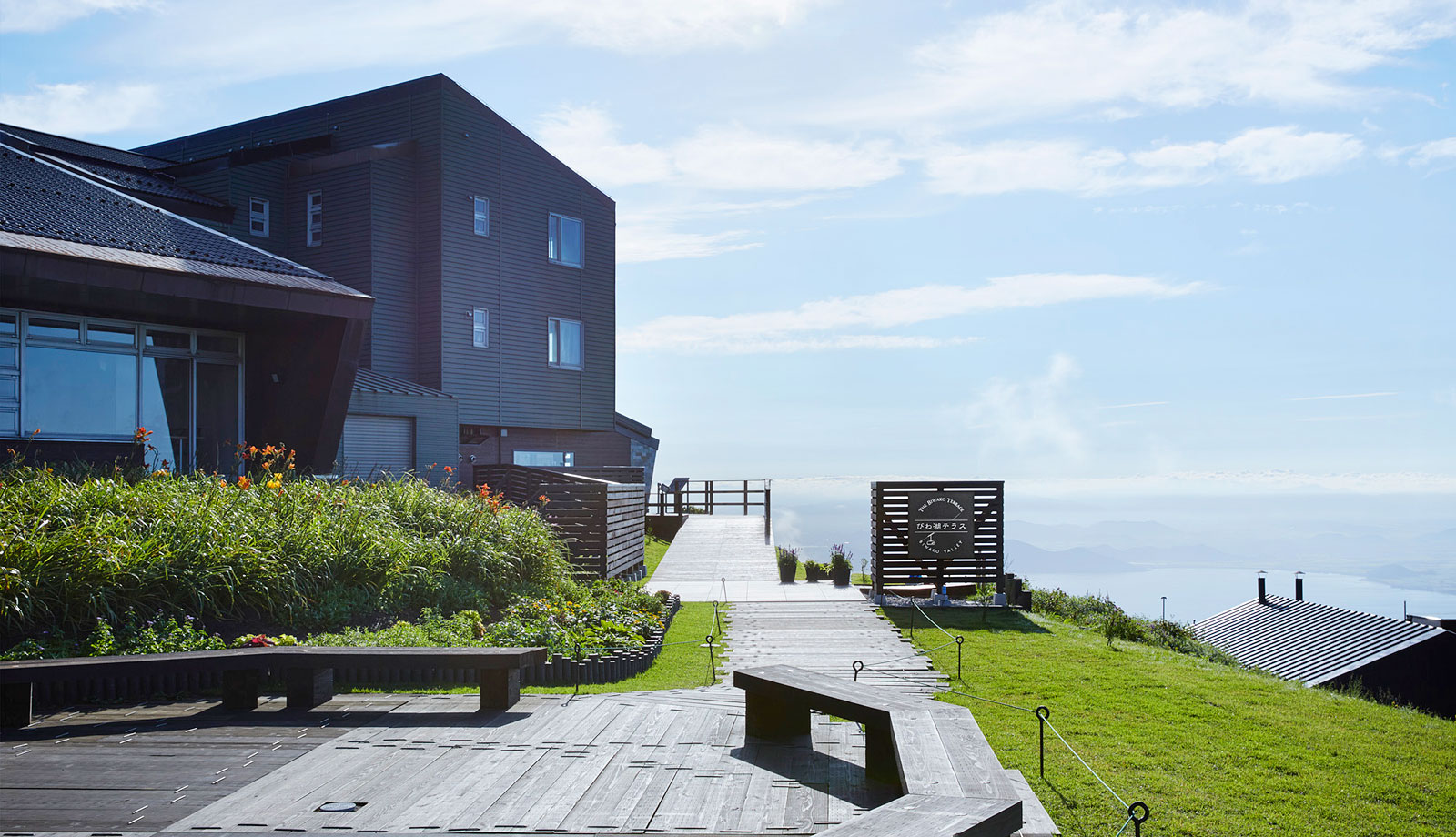 Access
Address: 1547-1 Kido, Otsu, Shiga 〒520-0514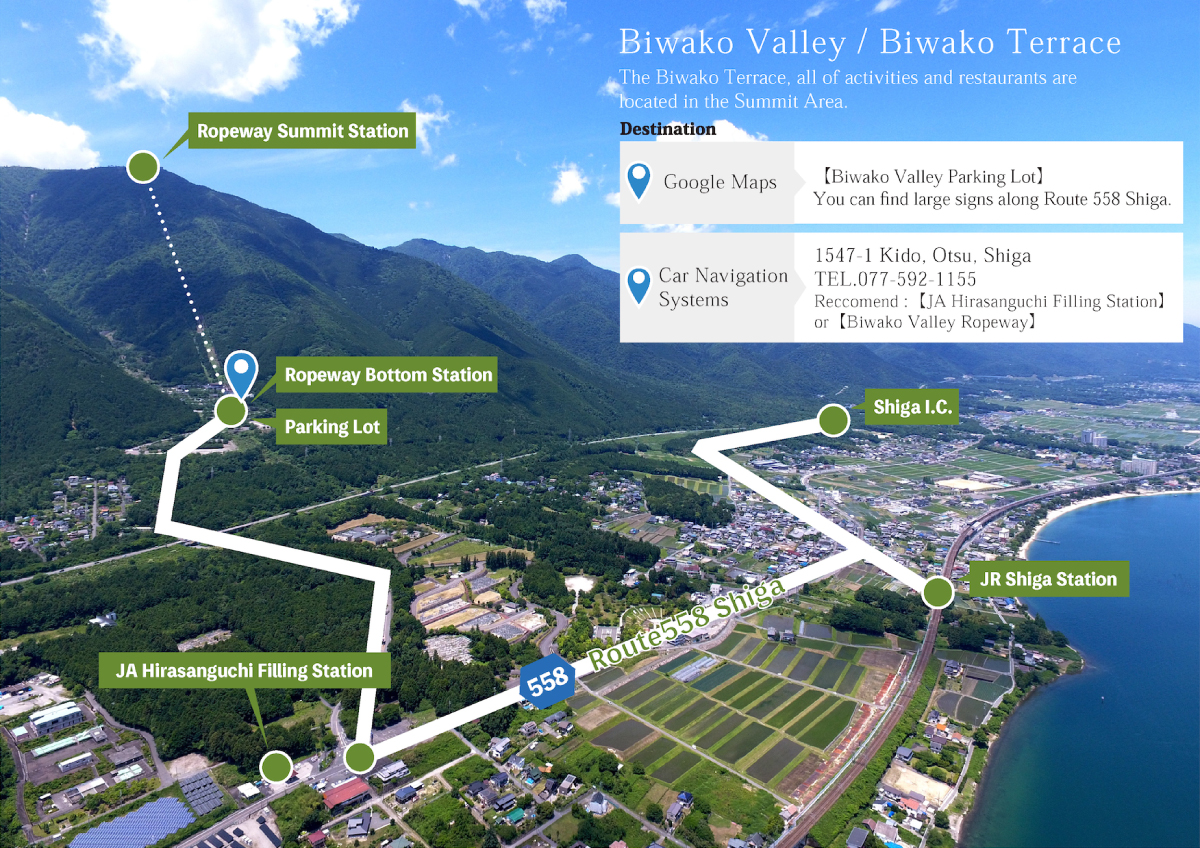 Route check by video


Bus timetable (JR Shiga Station – Biwako Valley)