Information
Today's Business situation & Traffic information
Tuesday September 26th, 2023
9:00-17:00
※ Last ropeway for going16:30 / Last ropeway for returning17:00
Parking Lots 8:30-
---------------------
【Biwako Terrace The Main】
(〇)Grand Terrace(viewing area)
(〇)Terrace Café
(〇)Café Stand at Grand Terrace
(〇)North Terrace(viewing area)
(×)Infinity Lounge
(×)Café Stand at North Terrace
【Biwako Terrace Café360】
(〇)Café360(viewing area)
【Restaurants】
(〇)Grill Dining&Bar HALUKA
(〇)Ekinaka Kitchen
【Activities】
(〇)Zipline Adventure
(〇)Sky Walker
(〇)Summer Land
【Lifts】
(〇)Horai Lift
(〇)Uchimi Lift
【Shop】
(〇)Biwako Street (souvenir shop)

(〇)Open/About to Open
(△)On Hold
(×)Closed
Tuesday September 26th, 2023
9:00-17:00
※ Last ropeway for going16:30 / Last ropeway for returning17:00
Parking Lots 8:30-
---------------------
【Biwako Terrace The Main】
(〇)Grand Terrace(viewing area)
(〇)Terrace Café
(〇)Café Stand at Grand Terrace
(〇)North Terrace(viewing area)
(×)Infinity Lounge
(×)Café Stand at North Terrace
【Biwako Terrace Café360】
(〇)Café360(viewing area)
【Restaurants】
(〇)Grill Dining&Bar HALUKA
(〇)Ekinaka Kitchen
【Activities】
(〇)Zipline Adventure
(〇)Sky Walker
(〇)Summer Land
【Lifts】
(〇)Horai Lift
(〇)Uchimi Lift
【Shop】
(〇)Biwako Street (souvenir shop)

(〇)Open/About to Open
(△)On Hold
(×)Closed
09/26/2023 update
Today's Weather
Weather

Marvel at the magical winter scenery of Lake Biwa.
Brave the cold and delight in the spectacular views from the Biwako Terrace.
Grand Terrace allows you to take in a different view over Lake Biwa every time you move up and down the decked area.
Find a spot where you can admire your favorite winter scenery.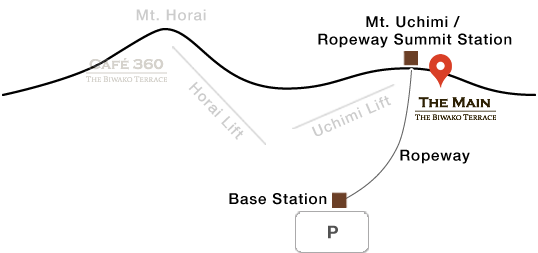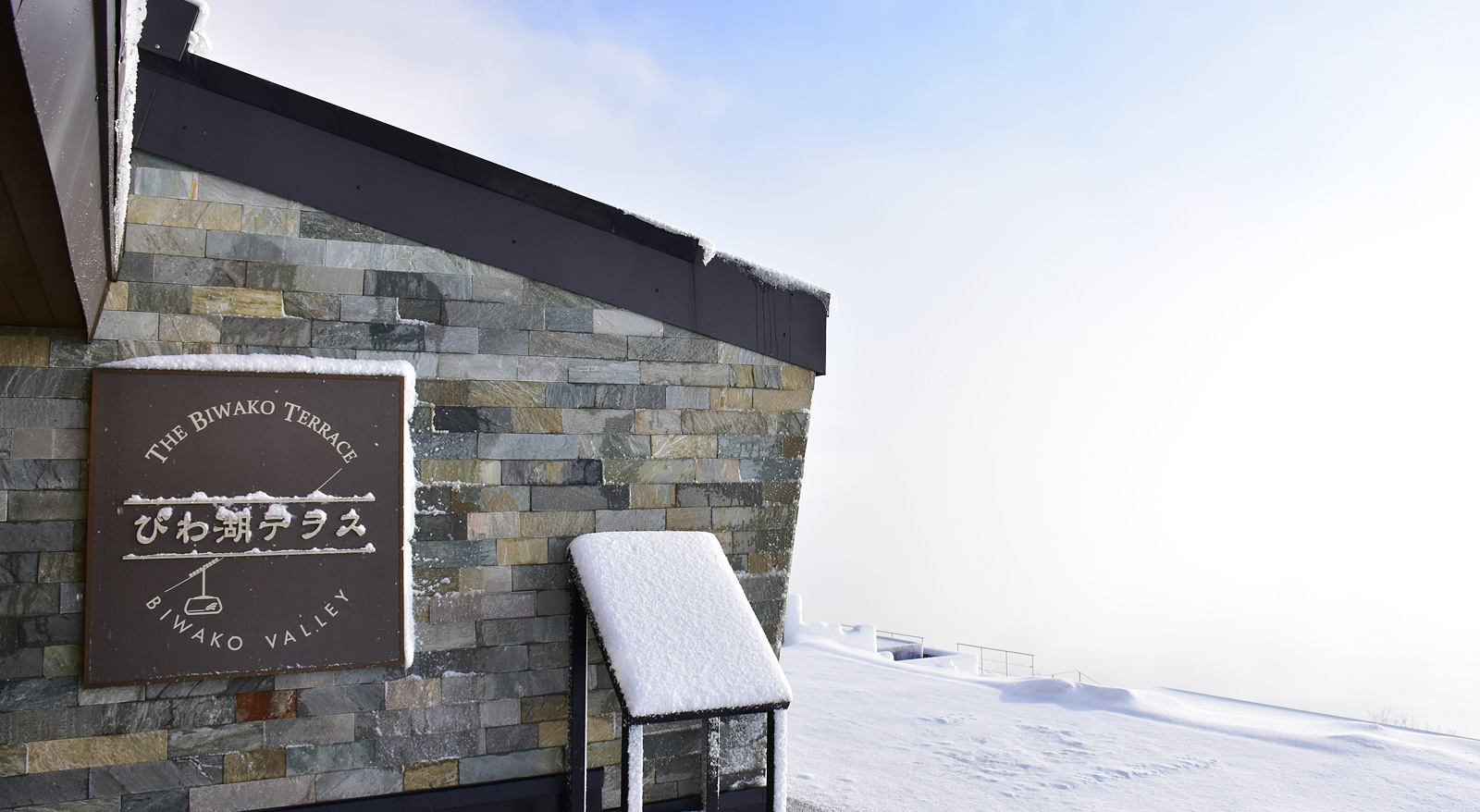 The Main /
Grand Terrace
Grand Terrace enables you to admire a different view of Lake Biwa every time you move up and down the three story decked area.
Unwind in Terrace Café, surrounded with serene décor.
Find a spot where you can admire your favorite winterscenery.

Terrace Café
Terrace Café sits at the heart of The Main. Enjoy a relaxing time inside the soothing wooden interior.
On clear days, sunshine from the over sized patio onto the Grand Terrace makes you relax and create a spacious atmosphere.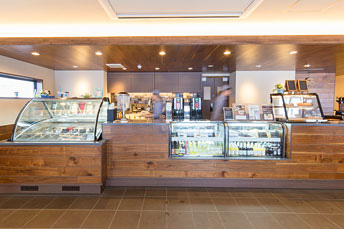 Grill Dining & Bar "HALUKA"
Guests can enjoy grilled food such as steak and hamburger steak in an open space with a balmy breeze. At the iconic bar counter, bartenders serve drinks including Moët & Chandon champagne cocktails and other colorful and delightful mocktails.
Basic Information
Ropeway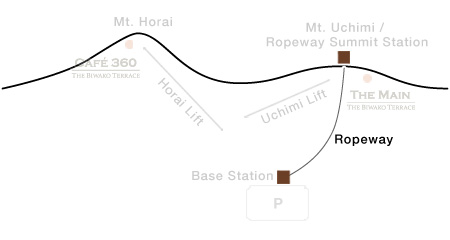 - Days of operation

Open all year round
*From Monday, 28 November to Friday, 16 December 2022
From Wednesday, 22 March to early April 2023
All Biwako Valley facilities including ropeway service, will be closed for maintenance and inspection checks on these dates.

- Hours of operation

8:30 AM 5:00 PM (last ascent at 4:00 PM, last descent at 5:00 PM)
*Period and time are subject to change. Please check our Top Page "Today's Business Information" before visiting.

- Schedule

Cars come every 15 min. (on the hour, and at 15, 30, and 45 min. past the hour)
*The gondola ride takes 5 min.
*Hours are subject to change depending on the season.

- Fees

Adults: 3,500 yen 7-12 years old: 1,500 yen
3-6 years old: 1,000 yen
Access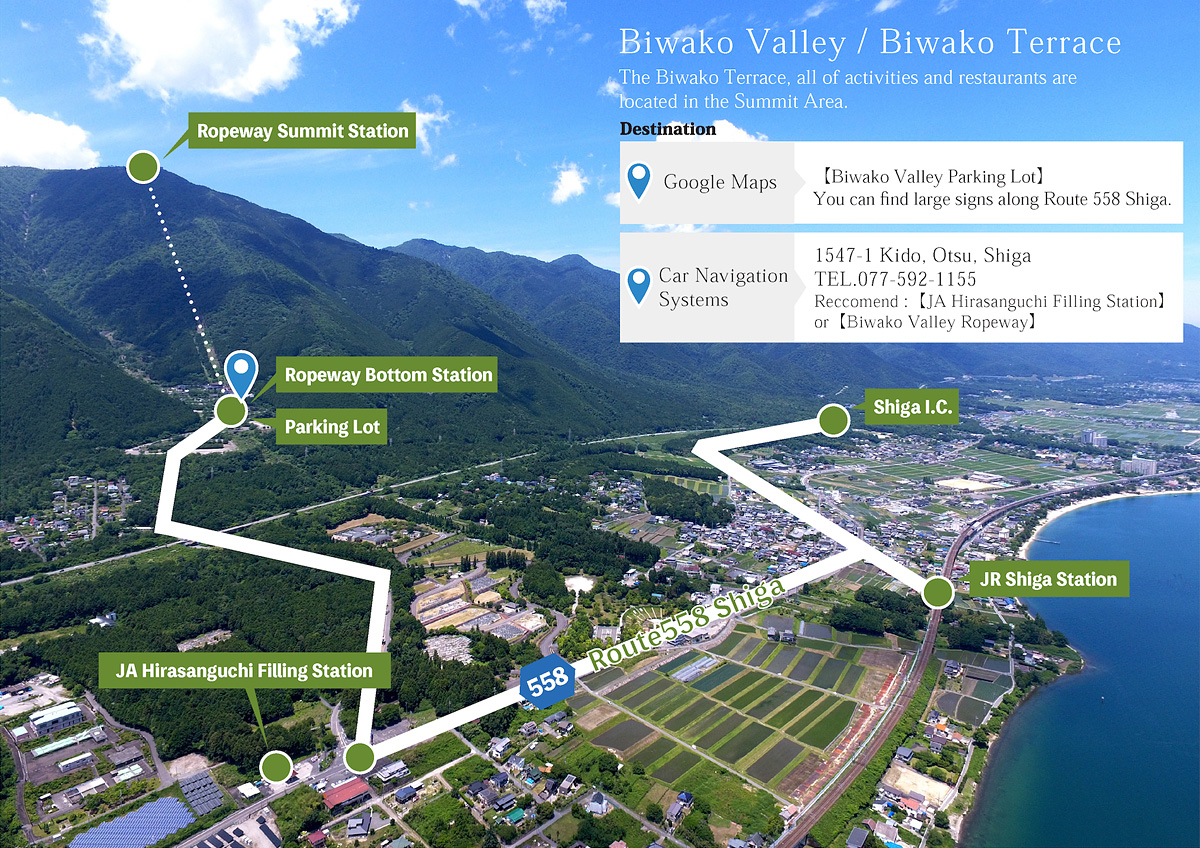 Route check by video
Bus timetable (JR Shiga Station – BIWAKO VALLEY)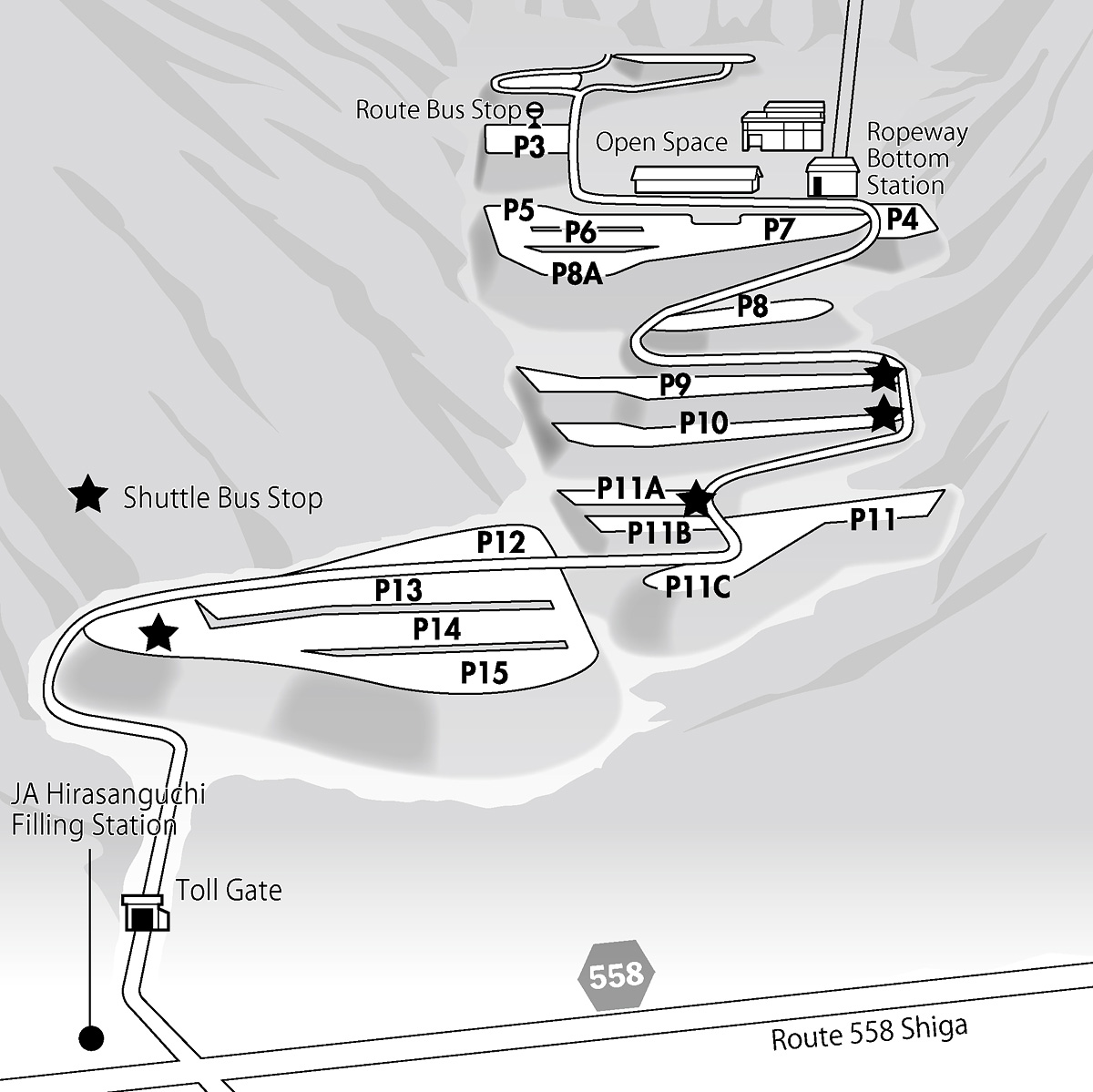 Barrier-free Access
In winter, there is snow on the outdoor walkway (passageway) to Biwako Terrace, so there are places where it is uneven and there are places where it becomes slippery.
In case of bad weather, you will be guided through the indoor passageway, so you may need to use stairs (dozens of steps). We kindly ask for your understanding.
Barrier-free access to Dining Lake View adjacent to Ropeway Summit Station.
For parking lot, our parking attendant will guide you to the parking area near Ropeway Base Station. Please note there may be snow cover in the parking lot.
Visitors with Pets
No pets allowed during the winter season.
Please take note of the temperature difference
Biwako Terrace is at an elevation above 1,100 meters. The temperature drops 5-7℃ compared to the foot of the mountain and the summit is very cold . we recommend a jacket or other appropriate clothing.