facility guide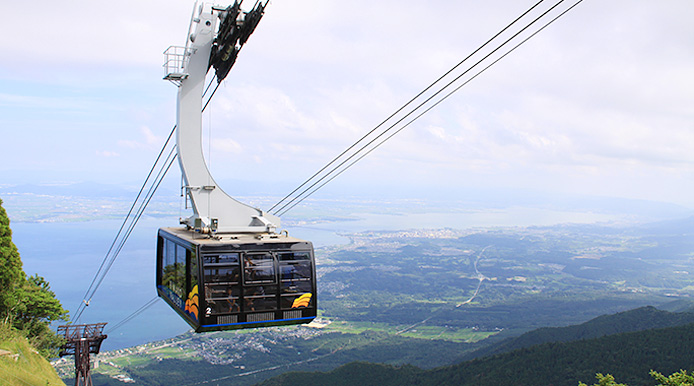 Biwako (Lake Biwa) is Japan's largest freshwater lake.
At Biwako Valley, you can enjoy mountain adventures with the epic view of the lake in sight.
Located south-west of Shiga Prefecture, it is easily accessible from Kyoto and Osaka.
Two thrilling sky adventure "Zip Line" and "Sky Walker"
await you at the peak of 1,100m.
After playing, enjoy lunch buffet at the restaurant "Lake View".
Find souvenirs at the gift shop "Biwako Street".
Ropeway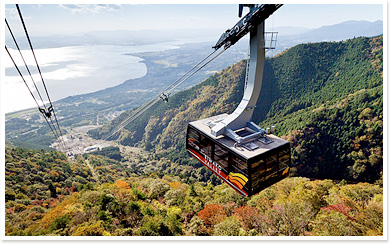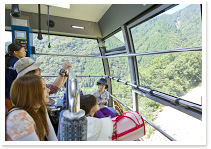 The base and the peak is connected by the fastest ropeway in Japan.
Enjoy the stunning Biwako view from the 360 degrees glassed cabin.
Full length: 1,783m/Altitude difference: 782.23m/Speed per second: 12m
【ropeway ticket】
Adult13+/2,200yen
Age7-12/900yen
Age3-6/500yen
Biwako Terrace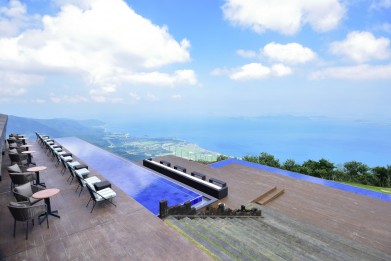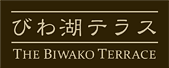 "The Biwako Terrace" newly opened on July 2016.
Experience our original sweets and menus with amazing view of Biwako spread in front.
Activity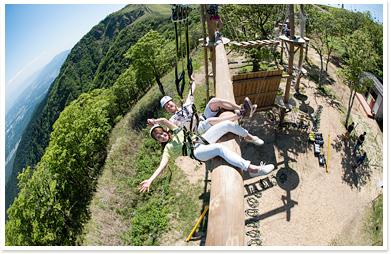 Sky Walker
In this thrilling attraction, you walk on the trees about 5m above the ground while passing various obstacles. You can choose from 4 courses and 18 items according to your level.
【price】
challenge course/2,600yen
family course/1,600yen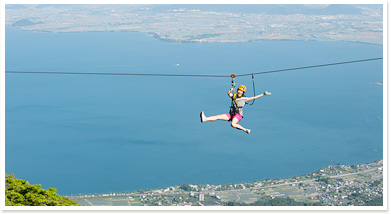 Zip Line
Soar down into the stunning view of Biwako. This thrilling experience consists of 7 courses, the longest wire being 129m. Feel freedom in the wilderness of the forest!
【price】
tour course/3,200yen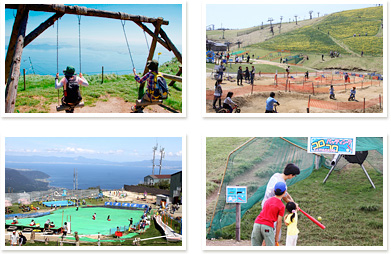 Other Attractions
From the observatory and the view swing, you can enjoy the unforgettable view of Biwako.
Free hand-made playground equipment is our recommendation for families.
From early summer to autumn, "Summer Land" opens up just next to the upper stop of the ropeway. Try glass sledding and bouldering, and much more!
Foods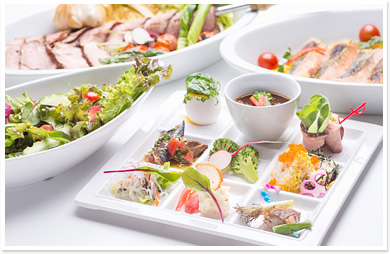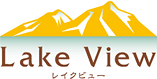 Buffet Restaurant Lake View
The restaurant "Lake View" is located just next to the upper station of the ropeway. Fresh salads, meat & fish menus and special menus are served according to the concepts of the season.
【buffet price】
Adult13+/1,600yen
Age7-12/1,000yen
Age3-6/700yen
Shopping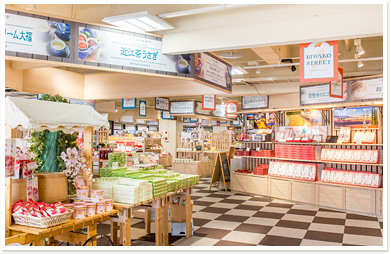 Biwako Street
One of the biggest gift shop in the area. From standard gifts to original goods, you can choose souvenir from more than 4,000 items.
Winter Season
Winter Season
Reach scenic trails in only 40 minutes from the Kyoto interchange. We boast 8 trails, located in the number one place for snow fall, that are rich in variety and snow quality. In addition to the sledging trail there is a half pipe, a snow park well equipped with items as well as a slalom trail and mogul trail so not only advanced skiers but everyone from children to senior citizens will have a great time. For meals the 'Viking' buffet is very popular and scores full points for the size of the portions!
Seasonal Events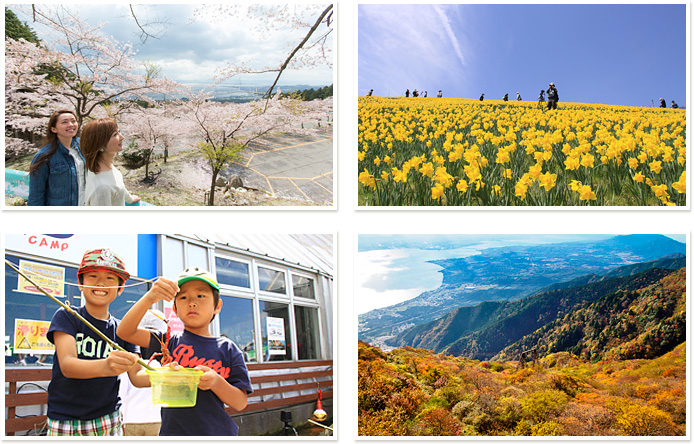 April is cherry blossom season. Alongside the 1.5km road, over 1,000 cherry trees bloom altogether.
In the middle of May, the hill is covered with 300,000 of daffodil flowers.
"Adventure Kingdom in the sky" opens during the summer season, featuring outdoor activities especially for kids.
In autumn, red leaves viewing is available from the ropeway.
This amazing sight of Biwako and red leaves is not to be missed!
Tourism Information around Biwako
By car: roughly 30km from Meishin Expressway East Kyoto IC.
By train: 50min. from JR Kyoto station.
Hieizan Enryakuzi (Enryaku temple on Mt. Hiei)
Located in Mt. Hiei lying on the border between the Kyoto and Shiga prefectures,
this temple was registered as a World Cultural Heritage Site by UNESCO in1994.
Ogoto Onsen (Hot spring)
Located on the Western bank of Lake Biwa, this hot spring is highly alkaline with a pH level of 9.0. Just around 20min. by car from Biwako-Valley.